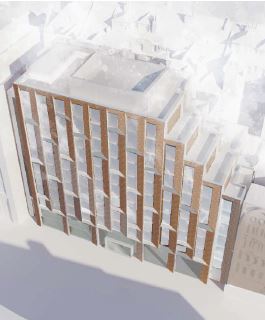 Vauxhall Bridge Road | Project Estimated to Cost £18M
Designed by the lead architect Mr Mark Wood of Dexter Moren Associates, 4c Hotels has submitted a development application for the construction of Hotels and Apartments on the site 268-282 Vauxhall, Bridge Road, Westminster, London, SW1V1BB. This project is in the process of detailed planning. This privately funded Brownfield Site project will involve demolition of existing structure, in order to construct new hotels, restaurants and apartments. Once completed, the floor area for this project will cover 4897 square meters, while the entire site area will cover 722 square meters.
This project will involve the construction of 1 structure, with 2 main units. 9 storeys of this project will be erected above the ground level, while 2 storeys will be developed underground. Two 2-bedroom houses will also be created for this project. Once finished, this privately funded project will include hotels with bars, restaurants, kitchen, changing rooms, soft and hard landscaping, gymnasia and sports centres.
While Dexter Moren Associates will be the lead architecture firm for this project, Mr Thomas Brooke will lead RPS CgMs, which will be the primary planner firm of this project. Mechanical and Electrical Engineering consultancy and Sustainability consultancy will be provided by Sabinus Consultancy Limited and Barrett Mahony Consulting Engineers respectively. Mr David Barden Barrett of Mahony Consulting Engineers will also assist with consultation regarding the Civil Engineering aspect of this project. Transport consultancy and Flood Risk Assessment will be covered by TTP Consulting and Ambiental Technical Solutions respectively.