Looking for finance development work on your investment property? Specialist refurbishment mortgages exist to finance the property purchase (where necessary) and refurbishment work itself, with separate products on offer depending on the nature of the work in question. Light refurbishment mortgage loans are short-term bridging loans which are designed to be repaid upon completion of the works and a subsequent sale or remortgage to a BTL mortgage or similar.
What is a light refurbishment?
A light refurbishment definition covers limited repairs, such as redecoration or refurbishment works such as installing a new kitchen or bathroom. These types of works are usually financed with a light refurbishment mortgage, which the borrower can take out to purchase or remortgage a property needing these works. Light refurbishment mortgages are ideal for buy to let properties, including single dwelling residential properties and HMOs.
The sum borrowed allows the landlord or investor to buy the property at an attractive price and deliver the works (works which are designed to increase the underlying value of the property and increase the rental income that can be achieved from it.)
Why choose a renovation mortgage?
Most high street lenders will only offer a mortgage secured against a property that is deemed to be 'habitable'. this means that renovation, conversion and other 'unconventional' purchases need to be financed with a specialist product. Hank Zarihs Associates works with a panel of experienced, trusted lenders which offer this kind of specialist development finance at competitive rates.
There are both light renovation mortgages and heavy renovation mortgages available, depending on the scale of the works that you are intending to carry out. These products are short-term bridging loans, with the refurbishment bridging loan repaid with a switch to an appropriate long-term product such as a buy to let mortgage at the point of completion, or proceeds from the sale of the property itself.
We specialise in refurbishment bridging loans
Hank Zarihs Associates are a leading financial intermediary for development and investment finance, including light and heavy refurbishment bridging loans. We work with a large panel of tried and tested lenders with significant expertise in their fields and deals which are often not advertised on the open market.
We work with our clients to secure tailored, competitive products which perfectly match their needs, and thanks to our focus on long-term, mutually-beneficial relationships, we are able to advise our clients throughout their investment and development careers as their projects and ambitions grow!
The process is quick and simple. We only need a few minutes to obtain the information that our lending panel need to review your application and to make an offer, and we liaise with our lenders to secure you a tailored offer within the hour, presenting your details in the way that lenders need to make a rapid, competitive offer. Review your offer and simply choose the loan which best fits your needs. We will handle the administration for you, securing you your funds within just seven days on average. Need your bridging loan quicker than this? Please contact us today as in some cases, we can secure loans within just three days or even less.
Apply for a refurbishment loan
Ready to apply for light refurboshment loan? We work with a tried and trusted panel of lenders who are actively lending. The deals that we can recommend to our clients are updated daily, so you have complete peace of mind that you are receiving details of the best possible deals on the market in real-time.
Light refurbishment calculator
Our light refurbishment mortgage gives you a sense of how much you might pay for your development mortgage. Simply add the relevant fields into the refurbishment mortgage calculator to see how much you will pay. The calculator will tell you the costs of your bridging loan, with a breakdown of the gross sum that will need to be repaid at the end of the term once the works have completed. The refurbishment mortgage calculator also gives you an idea of the costs that you would then pay for the longer-term buy to let loan that you would then switch to in order to repay the bridging loan.
Book an Appointment
Would you like to Discuss what options are available?
| | |
| --- | --- |
| | Appointments 7 days a week |
| | From 7am till 10pm |
| | No Obligation |
| | Terms Issued within Minutes |
| | Friendly, Experience Advisors |
| | Ask all the questions you need! |
Types of properties for light refurbishments
Light refurbishment bridging loans are usually applied to:
Single dwelling residential properties
HMO residential properties
Semi-commercial and commercial properties
Occasionally they can be used to convert a residential property to a small HMO.
Light refurbishment bridging finance can also be taken out by individuals, companies or trusts.
Types of work that can be carried out on a light refurb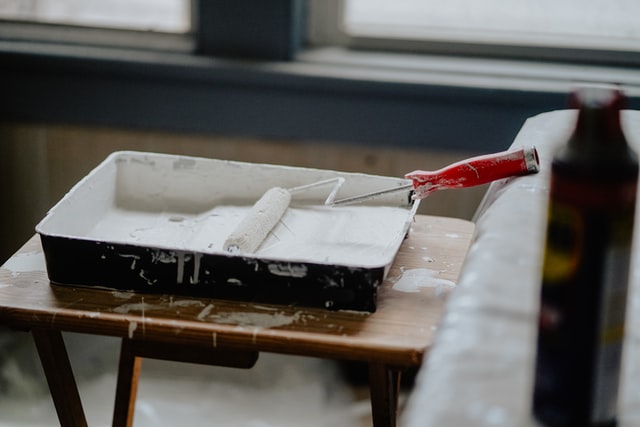 There is no legal definition of light refurbishment works, but they are understood by lenders to fall into the quicker end of improvement, refurbishment or conversion works – where planning permission isn't required. For example, these light refurbishment works could be:
Installation of a new kitchen or bathroom
General decoration to improve the presentation of the property in order to increase its rental value
Installation of new windows
Rewiring the property
Adding central heating
Carrying out non-structural improvements
Sometimes, to convert a single dwelling residential property to an HMO where only light work is required
Difference between light and heavy refurbishment mortgages
So, we've covered the scope of light refurbishment mortgages, but how do they differ from heavy refurbishment mortgages? The difference lies in the scale of the necessary works. Heavy refurbishment bridging loans are used where structural changes are required and where planning permission is necessary. These products might be used to fund:
Any project which requires planning permission or building regulations
Structural works to the interior or exterior of the house
significant conversion
A property extension
For works which are yet more significant – such as rebuilding a property or developing an apartment block, there will be more appropriate forms of development finance available. Contact the expert team at Hank Zarihs Associates for advice and a tailored illustration from our lending panel within the hour!
It's worth noting that light refurbishment mortgages tend to be less expensive than heavy refurbishment mortgages due to the lower risk of a timely redemption within the bridging loan term (usually 6 months to 2 years.) For both types of refurbishment mortgage, a deposit of 75% more is expected.
Loan repayments can be as low as 0.43% pm for a 50% LTV on a residential light refurbishment mortgage, although rates vary widely – contact Hank Zarihs to find out what the most competitive rates are for your project right now. Interest can also be serviced in different ways depending on your needs – for example, it can be serviced monthly, rolled-up or part rolled-up.
Call us today!
To find out the various mortgage options for renovations, please contact the Hank Zarihs Associates team from 9 am to 9 pm, Monday to Friday, on 44 (0) 20 3889 4403. Alternatively, complete the web call back form on our website and let one of our team contact you at a time that best suits your needs.