Input
Select Property Type
Property Price
£ 1000 £ 100,000,000
Term (Month)
01 Month 60 Months
Results
Book an Appointment
Would you like to Discuss what options are available?
| | |
| --- | --- |
| | Appointments 7 days a week |
| | From 7am till 10pm |
| | No Obligation |
| | Terms Issued within Minutes |
| | Friendly, Experience Advisors |
| | Ask all the questions you need! |
Our auction finance calculator can help you understand how much you might be able to borrow and how much it might cost when seeking finance for your auction property.
There's been a boom in the industry across recent years thanks to a resurgence in landlords and investors and government incentives to get back into development and refurbishment. Profits and yields have increased whilst demand shows no signs of slowing down either. Supply simply cannot keep up with demand in this respect, and it's leading to a surge in interest.
With property auctions increasing in popularity across the UK many developers and property renovators are increasingly looking for flexible and specialist finance in order to fund their projects.
Auction finance is similar to other types of bridging loans, but can vary depending on circumstances, so it's worth getting a good idea of the costs first. This will also allow you to get a better idea of what type of mortgage you qualify for in the long run.
How do I use the auction finance calculator?
Firstly, for our quick calculator you'll need to input which type of property you intend to purchase at auction whether that's, for example, a residential property or a commercial property.
Secondly enter the anticipated purchase price of the property. This doesn't have to be 100% accurate. Finally, just enter the number of months you think you'll need the finance for.
For our manual calculator you'll need to enter the same details again but also enter the Loan To Value (LTV), Rate in %, Lender fee in % and the Exit fee in % and this will give you an accurate read-out of what your finance will cost if you already know the terms you're seeking.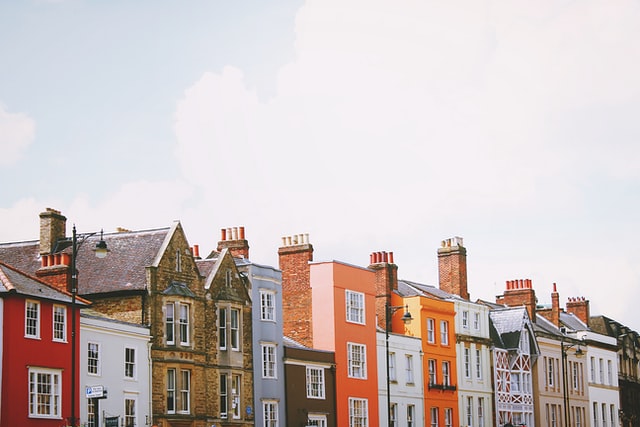 Typical auction finance rates
The rates for your auction finance will vary depending on your circumstances but, by and large, you can expect to pay between 0.45% and 0.75% per month with a lender fee of 1% –  2% of the value of the loan.
Auctions can be tricky to navigate when you know that you'll need your initial loan to begin with before arranging an auction, so it makes sense to know the rates you may pay.
Again, auction finance, bridging loans and arranging a mortgage will depend on circumstances so it's also worth speaking to an experienced member of the team who can give you more details.
How does auction finance work?
When purchasing property at auction you'll need to pay an amount up front, typically 10%, to secure the property with the remaining balance required within 28 days.
Finance can often help with this and, especially, a bridging loan helps many investors to cover the initial outlay in a specialist short-term loan before looking at a mortgage later down the line, and the value you may qualify for.
Once you contact an intermediary, they're then able to get more details about the finance you need and, in most cases, if you meet the criteria, this can be arranged for you quickly. You can let them know how long you think you'll need the finance for, and an agreement is then signed for the funding. Using a finance calculator can help you get an idea of what to expect.
How to finance auction properties
Ultimately, when you're looking to finance your auction property through a loan, you'll want to find the best rates over the shortest term until you can agree a mortgage or alternative finance.
There are a handful of companies and finance investors who specialist in this type of loan but more often than not it's laborious and time consuming to approach them individually and so many turn to intermediaries to search the market for the best rates and a good loan on their behalf.
Our advice is to speak to a specialist team member who can understand your project in detail first and foremost before submitting your application to a panel of lenders that can then provide you with a quote and time scale for your funding, allowing you to make the best decision. Once that funding has been acquired and you know your budget, you're then able to attend auctions much better equipped.
Advantages of using bridging loans to buy auction properties
Buying at auctions can be a tricky business but for those investors who are experienced and know what they're doing there's some seriously good business to be done at auction.
Due to the quick and unpredictable nature of auction, however, specialist finance is often required for investors. Auction finance and bridging loans can be the answer and these types of application can be made quickly, often being approved within 24 hours with funding released within days.
It also means you can bid with confidence knowing that you have a bridging loan in place already before securing a mortgage afterwards. It allows you to attend auctions much more confidently.
Auction finance can also be used for different types of property whether it's residential, commercial or land. With it being a short term loan, too, it means very reasonable rates and arrangement fees.
Why should I use auction finance?
Whether you should use a loan to fund your property purchase at auction will depend on your situation. Often, however, investors tend to take these types of bridging loans in order to ensure that they have the funds available to them to bid confidently.
After they've secured the property and paid the deposit or full amount, they'll then go on to arrange a mortgage whether that's residential or a Buy-To-Let mortgage, for example.
If you don't have access to the funds available and want to purchase a great deal at auction, then this type of bridging finance can be very attractive.
Property needs to be paid for within 28 working days
As mentioned earlier a loan is often required when considering auction finance because the property needs to be completed and paid for within 28 days or this could result in the loss of the purchase.
Auctions move quickly and this often requires a loan to move at pace to secure your investment and, subsequently, your mortgage too once the sale has been completed.
Loans approved quickly
Due to the fast paced nature of getting a bridging loan or a property loan once you've purchased one many lenders are keen to get your application processed quickly.
This often means that you can get a bridging loan approved within days or even hours depending on your background.
Bridging finance can be used against property
One of the other benefits of this type of loan is that it can be secured against other properties you have if you're looking to secure a larger amount or secure quicker funding for your purchase.
Speak to our brokers today
Ultimately, approval for your loan application will be dependent on your circumstances, but luckily, we have a hugely experienced team of brokers that know exactly what our lending panel require and what they're looking for.
Through our long established relationships in the loan industry, we're also able to secure exclusive rates and deals for our clients. If you're experienced in buying property then you'll know that these types of specialist loan can vary from lender to lender and, as such, we're able to navigate this for you by finding exactly the right deal for you.
Through our experience we're also able to ensure that your application is in the best shape it can be to be approved, as we know exactly what our panel require.
This also means we can get you approval as quickly as possible before you're ready to go and bid along with other types of investor.
Our calculator that's located above also means that you can get a really good idea of what the costs and implications are for you and if you'd like to use our manual calculator you can play around with more specific variable such as interest rate.
Check out our other calculator