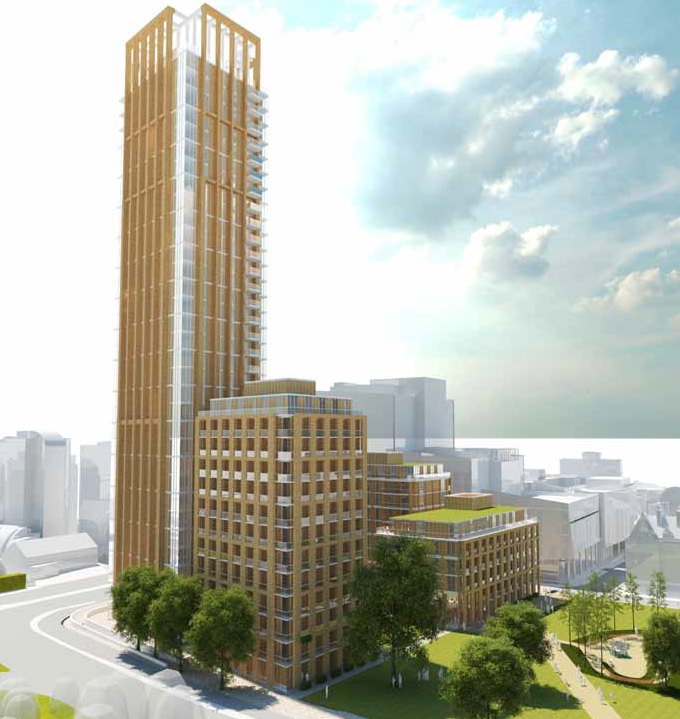 Taberner House & Queens Gardens | £40.8M
Bridges Ventures LLP has submitted an official application for the redevelopment at the site Taberner House & Queens Gardens, Park Lane, Croydon, Surrey, CR9 3JS. Since this a Brownfield Project, the development will begin after the demolition of the existing infrastructure. The application has been submitted to the council of Croydon, and it is still pending a detailed approval.
5 structures of 32 storeys high will be constructed for the project, and the total floor and site area covered by the structures will be 1159 square meters and 1.28 Ha. 514 residential units will be developed, while a total of 22 parking spaces will be offered to the residents. 208 one bedroom houses, 233 two bedroom houses, and 73 three bedroom houses.
The architecture group includes Allford Hall Monaghan Morris and Darling Associates as the lead architecture firms, Gerald Eve (Head Office) and GL Hearn & Partners as the primary planners and Faithful+Gould Limited Head Office as the lead quantity surveyor. The landscape architecture firms for the project are Gillespies Head Office, Grant Associates, and DSA Engineering.
The lead consultant for civil engineering, sustainability, structural engineering and mechanical & electrical engineering will be Aecom Head Office. Hub Residential is the lead project manager for the development. Cilantro Engineering UK Limited has won the subcontracts for fire protection, heating & ventilation, mechanical & electrical, plumbing and security. Erith Group is the primary demolition subcontractor.