What is Development Finance?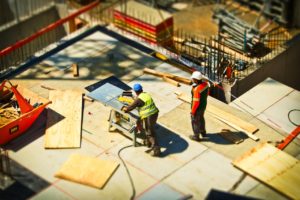 Development finance is a type of short-term funding option tailored for property developers or companies ranging to an individual level, typically spanning between 6-18months, to cover the length of a build. In the case of a ground up development the entire development cost can be covered. These loans are typically for experienced borrowers, however, at Hank Zarihs Associates we have a wide variety of lenders that can offer development finance for first time developers. Loans are available for residential, commercial and mixed-use projects, including ground-up new build, knock-down-and-rebuild, conversions and refurbishments.
The scale of the project can range from a single build to multiple units on a site. Development loans are designed specifically to generate capital and alleviate the initial strain of purchase and building costs associated with a residential development project. The development package offered will invariably be broken into up into two parts and will cover the two different phases of the project; building costs and purchasing costs. The funding for the building stage of the project is usually released in segments, as opposed to being accessed in one amount at the outset. This often happens once a month as works are completed on the project. This is so clients don't pay interest on finance that hasn't yet been drawn down.
Build works can be undertaken on a self-procurement basis or via a main contractor under a fixed price contract. The total value of the funding allocation that can be provided will be determined by a professional valuation report that will provide three key costs. Current value – i.e. the value of the site with planning or the value of the property before refurbishment; the build costs; and the gross development value, assuming all works have completed. Each development finance lenders will have their own lending parameters that dictates the maximum that can be lent. There are plenty of benefits to using Hank Zarihs Associates, which you won't find by going direct to individual lenders.
How Does a Development Loan Work?
Deals are individually assessed in order to determine that there is enough funding and provision lined up, in order to cover the entirety of the build. Hank Zarihs Associates offer 100% of construction costs for ground-up new builds and conversion costs. We would advise prospective clients to research our policies regarding fees and loan interest, dependent on the value borrowed against the term of the loan and percentage borrowed versus overall project costs.
Once all parties have accepted the terms of the Offer of Finance it will allow the lender to formally begin the lending process. The mortgage and loan paperwork will then be dealt with by the lender's and the borrower's solicitors. Once all formalities are completed, the initial funds towards the purchase of the site can be released to the borrower with the remainder released in stages against works completed. Repayment will be expected before the agreed term has expired from the sale of the completed property/properties, although an extension will sometimes be permitted to provide an additional window in which to secure the sales, subject to additional fees.
A site will often have to obtain legal planning consent although sometimes an alternative 'Permitted Development' is required. These are acquired from the local council who will often advise applicants about their options and the council's requirements. Lenders will normally cap their lending against the value of the finished project (known as the Gross Development Value) and will provide only a certain percentage of the purchase price. There are options in the market for what type of lender you wish to use, dependent on levels of risk you can willingly accept based on your current risk portfolio. The most conservative lenders in this sector are the high street banks. Alternative and specialist lenders will often provide more debt to their clients.
Once a project is up and running the build loan is drawn down in stages (usually monthly) with the amount of each drawdown equating to the value of works completed in that month. Loans are secured, usually against the site/property in question, and normally through a first legal charge/mortgage. The vast majority of development loans are provided for residential properties although occasionally, and in certain circumstances, a loan can be for 'mixed use' or wholly commercial use purposes.
Development Finance Rates
At Hank Zarihs Associates, we are proud to secure highly attractive finance rates via our panel of specialist lenders, who trust us to package up project applications in a way that allows them to make a rapid assessment of each borrower's specific needs. Development loans rates vary according to a variety of factors, such as the sum required, the duration it is needed, the experience of the borrower, the location of the project and the financial returns.
Development finance examples
Example: As an example of a typical finance rate for a development loan, a residential finance deal could start from 3.95% APR and a commercial development loan could start from 7.50% APR. On a bridging loan, the interest rate ranges from 0.45% to 1.25% pcm, depending on the asset, the credit profile of the borrower and the LTV required.
It is common for brokers to charge a fee for using their service, which can be up to 2% of the loan amount, usually charged as a 'success fee' on completion of the loan. At Hank Zarihs Associates we expect to earn 1% on any property development application, which is often paid to us via a commission by the lender, as standard. In the instances that we are not paid by the
lender, we will charge a separate broker fee, which will be agreed with the client upfront, although we always try to avoid doing so. If your application does not progress to completion, you may be charged an admin fee.
We provide full and transparent details of all fees, for total clarity to our clients. For the latest interest rates available, please visit our rates here or contact one of our team on 0203 889 4403. Remember at Hank Zarihs Associates, we are able to access specialist development finance intermediary deals which aren't available directly to customers!
Benefits of a Property Development Finance
Following the overview above which details property development finance, we will proceed to outline the 5 key benefits which will highlight why we are your best choice.
Cash flow
Development finance allows you to take on larger projects that you may not be able to afford on your own. You are able to retain capital so could potentially take on additional projects with the money saved. Improved cash flow management and, providing the lender agrees, you can sub-let some of your business premises.
Increased Business Scope
By utilising development finance, you may be able to undertake multiple projects simultaneously, or avoid having to wait until an existing project is sold, or is fully sold, before commencing your next development. Using finance can help avoid missing out on your next project or other potentially great opportunities.
Increased Profit
Your return on investment will be greatly increased – you can reduce the cash outlay required dramatically and the cost of finance will only have a small effect on the total profit.
Less Risk
You are risking less of your own money – though the desired outcome when entering a development project is obviously that the project does well, but if it happens to fail, you will be limiting your cash exposure if the scheme is financed.
Reduced overheads
commercial mortgage interest payments are tax deductible, this can contribute to reducing your business' annual tax overheads.
How do I Apply for Development Finance?
Development finance functions differently to traditional mortgages in more ways than one. Usually, lenders assess the value of the property and then offer a loan based on how well the borrower meets their eligibility criteria. For development loans, lenders assess the predicted value of the property following the completion of the development project.
To apply for development finance, developers must submit an application that details how much they paid for the property, the cost of the development and professional fees, and building timescales. After successful review of this information, they are given a list of terms from the lender that need to be agreed to before proceeding to a credit check. A bad credit rating will have a seriously detrimental effect on an application, so borrowers need to make sure they've checked it before they apply.
Even once the loan has been approved, the borrower will still be monitored throughout the project. It's also important to note that the interest paid on the loan will be negotiated with the lender during the application process, so it can be difficult to gauge the final cost until later on in the application.
What documents do I need to provide?
Paperwork is a huge part of any finance application, and development finance is no different. You must make sure all your affairs are in order or your application will be rejected and you will not recover your application fee. In fact, due to the loan taking into account the future value of the property, there is more paperwork than usual. Before talking to a lender, a developer needs to provide:
The current value of the property (if owned) or purchase price (if not)
The predicted end value of the property, with evidence
A copy of the planning permission
The development time schedule
A portfolio or CV of experience in development projects
The building and renovation costs
Details of any other professionals involved in the project
Any planning restrictions that might apply
Details of building regulations
Work With Hank Zarihs Associates Today!
If you're thinking about applying for development finance then, strictly speaking, you don't need a broker. However, it's widely considered a good idea. Each development is very different and as such, they are underwritten by lenders on an individual basis. A broker will be able to ensure that what a lender offers you is in your best interests. After an initial consultation, our experienced team will see that you are placed with the most appropriate lender to achieve your goals.
With a broker, you can expect greater clarity regarding how much your loan will cost and a deal that's best suited to your circumstances. As early as possible, we can give you an indication of the interest rate and terms you can expect to be offered, and can make sure your application is seen by the lender best-placed to assist you. We also know exactly what lenders require in a project overview and can help you produce a well-crafted tailored proposal. Once the application is submitted, we'll keep you posted on its progress and negotiate on your behalf where necessary.
If you'd like to know more about development finance and how we at Hank Zarihs Associates can help you, get in touch via our contact page – we look forward to hearing from you.