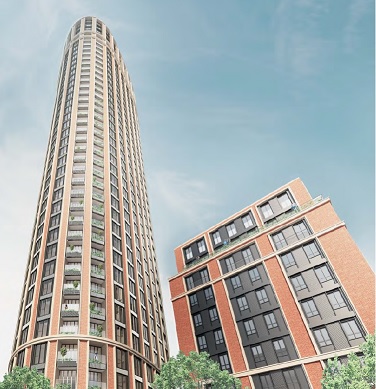 West End Gate | Edgware Road | 652 Homes
Berkeley Homes (Urban Renaissance) has submitted a development application for the development of 652 flats and retail offices at the site 285-329 Edgware Road, Paddington, London, W2 1DH. The application has been awarded a subcontract, but it is still pending a detailed approval. The is a privately funded mixed development project. Once completed, the floor area for this project will cover 20545 square meters, while the entire site area will cover 1.065 Ha.
This new build project will involve the construction of two structures, with 30 storeys above the ground level. Upon finishing, the structure will include 652 residential housing units and 170 parking spaces. This project will begin in December 2017 and finish development in December 2020. The project will also feature associated landscaping, surface car parking, and communal gardens.
Squire and Partners and Renzo Piano Building Workshop will be the lead architect firms, while Turley Associates will act as the primary planner for this project. Berkeley Homes (Urban Renaissance) will act as the lead quantity surveyor.
Mechanical & electrical engineering consultancy and sustainability consultancy for the project will be provided by Buro Happold. Berkeley Homes (Urban Renaissance) has been chosen as the primary contractor for the entire development. The lead foundations and groundworks subcontractor will be Foundation Developments Limited. Haydon Mechanical & Electrical Limited will be responsible for the subcontracts of fire protection, heating & ventilation, mechanical & electrical engineering, plumbing, and security.