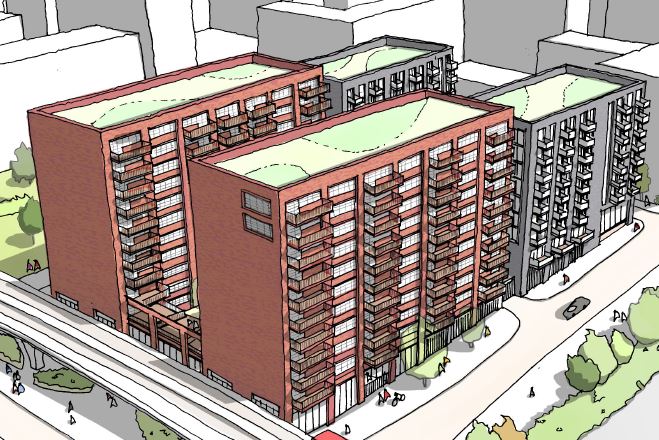 Royal Wharf P3 | Costing £25M | 314 Luxury Units
The application for the development of phase 3 of Royal Wharf has been submitted by Oxley Holdings Limited. The site chosen for this project is Royal Wharf, North Woolwich Road, Silvertown, Victoria Dock, London, E16 2BG. The subcontract has been awarded to the application, whereas it is still pending detailed approval. This project will consist of construction of 314 flats, retail units and restaurants on an empty real estate property.
The project will be completed in a period of 24 months, starting from October 2017 and ending in October 2019. The floor area of 1113 square meters will allow the development of 4 structures of 12 storeys high. The 314 units constructed will involve 138 one bedroom houses, 105 two bedroom houses, 63 three bedroom houses, 4 four bedroom houses and 4 houses with space for more than five bedrooms. The development will also feature playgrounds, canteens, surface car parking with 162 parking spaces, restaurants, pubs and bars.
Glenn Howells Architects will join this project as the lead architecture firm, while the position the primary planner will be filled by Rolfe Judd Group Practice. Townshend Landscape Architects will be joining this project as the landscape architecture firm. Mechanical and Electrical engineering consultancy services and Structural engineering services will be provided by O'Connor Sutton Cronin. The management group includes Roundstone Construction Services Limited and Mr Bryn Marler of Ballymore Properties.
The main contractor for the project is Ballymore Properties, while Galldris Construction Limited has won the subcontracts for Civil construction, foundations construction, groundworks and landscaping. The subcontracts for Electrical engineering, fire protection and security services has been awarded to Harrison Electrical Services. Prater Limited Head Office is yet another major contractor, which will be providing its services in the field of door construction, external walls construction and windows construction. The subcontracts for heating & ventilation and Mechanical engineering was won by Emico Limited. Finally, Artel Scaffolding holds the subcontract for scaffolding in this project.