Each and every year the UK welcomes nearly 3 million students to its bustling cities and towns, one of the largest and busiest student populations anywhere in the world.
Cities like London, Manchester, Liverpool, Leeds and many others have huge and vibrant student areas and student populations, with many studying at some of the best institutions in the world.
Of course, this has the knock on effect of meaning that students need somewhere to live, and so student accommodation has become one of the most popular investment asset classes in property.
Many landlords get in touch to talk about potential finance options for developing their properties into student accommodation, and so we've put together a short guide about student accommodation development finance.
What is student
accommodation

?

Student accommodation is, in simple terms, property that is used for the accommodation of students. There are different types of student accommodation, for example university halls and purpose built accommodation in the form of blocks of apartments, as well as houses of multiple occupation (HMO's) that are used exclusively for students.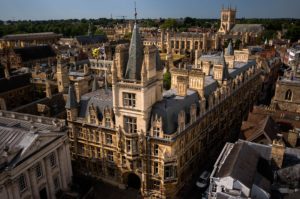 How do you finance student accommodations?
There are a number of ways that you can finance student accommodations and much of it depends on the type of property you're looking to source financing for.
Student accommodation isn't hugely different to financing any other type of property, and you can look at longer term or short term finance in order to reach your goals. Similar to residential and commercial property, you can either fund the development and either sell the property or arrange longer term finance at a later date, or you can arrange a mortgage if you're buying one outright.
If you're looking to develop an existing property into student property, then the best bet is to look into student development finance, which is a product that we arrange on behalf of our clients.
Why choose Hank Zarihs Associates?
With decades of experience in the industry, we're able to shop the entire market to bring you the best rates from a panel of lenders that we've spent years building exclusive relationships with. Our team are able to talk you through the entire process and support you from application to completion, and we'll always ensure you get the right product for you.
An excellent track record
With our knowledge and experience, we are able to present lending cases to our panel in a format which is most likely to increase your chances of being offered attractive development finance. By following a comprehensive due diligence process with each client we make it possible to find the right development loan in the UK, quickly and efficiently – from the right lender.
What's more, we are able to add value at every step of the process, with in-depth knowledge and guidance, designed to help our clients match up with the right lender, for the ideal loan. We recognise that development loans are usually large and complex, so our service ensures that clients are best placed for acceptance from our lending panel.
We're also proud to work with most of our clients on a repeat business basis – by proving the value of our service at every turn and by building long-term relationships with our developer clients. Whatever your level of experience, size of project or development loan need, you can be guaranteed of a superb experience with the team of friendly and helpful experts at Hank Zarihs Associates.
Saving more – cutting out the middle man
We can save you money too, as we work with property development finance lenders who offer specific deals on development finance for intermediaries – cutting-out the middleman and meaning that our clients can access even more attractive deals on their borrowing – with our help, expertise and support at every step of the way.
Apply for a student accomodation development loan
Ready to apply for student accomodation development finance UK? We work with a tried and trusted panel of development lenders who are actively lending. The deals that we can recommend to our clients are updated daily, so you have complete peace of mind that you are receiving details of the best possible development finance products on the market in real-time.
Book an Appointment
Would you like to Discuss what options are available?
| | |
| --- | --- |
| | Appointments 7 days a week |
| | From 7am till 10pm |
| | No Obligation |
| | Terms Issued within Minutes |
| | Friendly, Experience Advisors |
| | Ask all the questions you need! |
Student accommodation development finance lenders
Student accommodation investment is still something of a niche asset class investment, however, it's extremely profitable and popular too, and so we have a panel of lenders that are keen for more exposure to this lucrative section of the UK property market.
Student numbers are growing in the UK every year, and the yields on student accommodation are very lucrative, not to mention the disparity between supply and demand, creating a push in profits.
With that in mind, we've managed to put together a diverse and positive panel of lenders that you won't be able to access via traditional methods, with foreign banks, pension funds and private investors all in our panel of lenders happy to lend on the right project.
Required paperwork
As with most asset classes and property finance, there will be some paperwork and administration. What exactly you're asked for will depend on your circumstances, your history and the type of project you're looking to have funded.
Broadly speaking, you can expect to be asked to provide proof of ID, proof of address and proof of income. If you have existing properties that you rent out or receive an income for, you may be asked to provide proof of your rental income and any previous projects that you've completed.
If you'd like more details about what kind of information you may need to provide, it's worth speaking to one of our senior brokers about it so they can give you some more details.
What is a PBSA Scheme?
PBSA is an acronym for Purpose Built Student Accommodation and is used to described projects where student accommodation is purpose built from scratch, usually in the form of apartments.
Many developers will take larger commercial buildings and convert them specifically into student apartments, exclusively renting them out to university students. Whilst they're not occupied for the full year, the rents than can be collected on these apartments are higher than if they were converted into residential apartments.
They're usually contained into one building, with all of these apartments used for students, and this gives the name 'purpose built'.
Are student accommodations a good investment?
As with any type of investment, caution should be exercised, and no investment is guaranteed to increase in value, however, in the scheme of things, student accommodation has proven to be a great investment over recent years.
As we mentioned above, the demand for this type of asset class has been rising for years, with student numbers increasing year-on-year with millions wanting to attend UK universities in urban centres that are struggling to keep up with housing demand as it is.
As in any basic economics, an excess of demand with a shortage of supply drives price and scarcity, and so landlords and investors who are into this asset class are in a strong position to command great rents and yields, and occupancy rates for this type of asset class are some of the best in property.
Yields, capital appreciation, and rental growth are all very healthy in this type of property investment, so contextually speaking, yes, as a property investment it has proved to be a good investment in recent years.
Speak to us about student accommodation development finance today
If student accommodation finance is something that you've been thinking about or something you're interested in, we have an experienced and friendly team waiting to speak to you and give you more information.
They'll take some details to understand your situation more, and then provide you with all the advice you need before you make a decision, so why not get in touch today?
What people says about us
GOOGLE REVIEWS
Please refer to below mentioned few testimonials from our loyal customers
Great service very quick efficient and professional service received, they got me a btl mortgage at the right price, highly recommended them.
Great Service and Friendly staff.
Great service very quick efficient and professional service received, they got me a btl mortgage at the right price, highly recommended them.