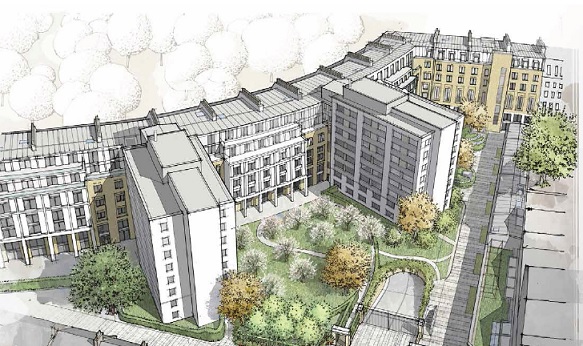 Park Crescent | Marylebone | 76 residential Units
Great Marlborough Estate has submitted an official application for the development of 76 residential flats at the site 16, 18-25 and 26 Park Crescent, 77-81 Portland Place, Marylebone, London, W1B 1QU. The application has been awarded subcontract, while it is still pending a detailed approval for the development. The is a Brownfield Site project, and it will involve conversion and demolition of the existing property on the land, before the construction of a new project.
The duration of the project is 36 months, and the development will be 6 storeys high, while 2 storeys will be developed under the ground level. A total of 76 units will be constructed, and the entire floor and site area for the development will be 1568 square meters and 9600 square meters respectively. 58 parking spaces will be developed for the residents.
Ian Law of PDP London and Sam Hine of DP9 Planning Consultants will join the project as the lead architect and the primary planner. Kim Wilkie Associates and AECOM will take the positions of the lead landscape architect and Quantity Surveyor. Hilson Moran Partners Head Office will offer their consultancy services in the fields of Mechanical and Electrical engineering and Sustainability. AKT 2 will be the lead Structural engineering consultants. RISE Management Consulting will be among the project managers of the project.
Ark Mechanical & Electrical Services won the subcontracts for the plumbing, fire protection, heating and ventilation, and security services. McGee Group Limited is the leading demolition subcontractor for the project, while JRL Environmental Limited has been awarded the subcontract for the foundations. London Tower Crane Hire is the chief plant subcontractor for the project.