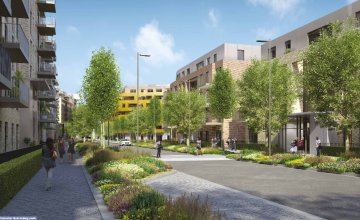 Haringey Heartlands | 1,200 units | £100M
National Grid Property Limited Head Office submitted an application for development for a mixed-use development on 3rd June 2016. This Brownfield Site project is set to be constructed on the site Haringey Heartlands between Hornsey Park Road, Mayes Road Clarendon Road and the Kings Cross/East Coast Mainline, Wood Green, London, N8 0JP. The subcontracted has been awarded for the application, while the detailed approval is still pending.
This project will begin in April 2018 and the estimated completion of the project is in April 2025. Once completed, the project will feature 1200 housing units for residential purposes, covering a site area of 4.9778 Ha. The development will include construction of 4 storeys and 225 parking spaces. This development will involve surface car parking, 460-700 square meters for office uses, 370-700 square meters for financial and professional uses, and restaurants.
Panter Hudspith Architects has been chosen as the lead architect for this project, and they will be accompanied by Drivers Jonas Deloitte LLP Head Office, who will act as the primary planner. Deloitte Real Estate and Quod Planning Limited will also act as planners for the project. Hyland Edgar Driver is the lead landscape architect for the project. Waterman Building Services Limited will provide its services in Mechanical and Electrical engineering consultancy, while they will also assist with the consultation of Structural engineering. The primary contractor is St James Property Developments Limited. The demolition contract is being held by Coleman & Company Specialist Cutting Services Limited.